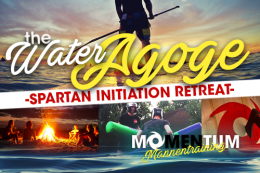 The Wateragoge
De agoge was de 'rite of passage' in het oude Sparta. Waar jongens man werden, of niet terugkwamen! In veel culturen zaten en zitten een soortgelijke vorm van mannelijke en vrouwelijke initiaties. In het boek 'King, Warrior, Magician, Lover' - Rediscovering the Archetypes of the Mature Masculine - van Robert Moore en Doug Gillette wordt, net als in de boeken van Joseph Campbell, de 'death of the boy' en de 'birth of the man' als een zeer belangrijk sociaal en maatschappelijke gebeurtenis omschreven. Onze westerse cultuur mist deze vorm van geestelijk volwassen worden en je innerlijke draken aangaan. Om dit terug te brengen organiseert Lionwood 'the Wateragoge' retreat.
Dit retreat vind grotendeels plaats op de SUP (stand up paddle). Geef je je over aan een mix van sjamanistische en modere psychodynamische methoden. Diep ademwerk, Dynamic Meditation en koude-training openen, waarna sharings bij het kampvuur opluchten en verbinden. Nieuw hervonden energy vormen we om tot 'rough play' met trainingen als bijl- en speerwerpen, archery games en gladiator stick fights in een pikante saus van spartaanse survival.
Locatie: Scheveningen en omstreken
Tijd: zaterdag 10:00 tot zondag 14.00
Prijs: € 297,-
"If you want to be a lion...you must train with lions!"